The Chamber of Shipping of America Recognizes Crowley's Explorer Crew for Quick Response to At-Sea Emergency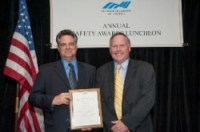 (NEW ORLEANS; June 13, 2013) – The Crowley Maritime Corp. tugboat Explorer has been awarded with a letter of commendation from the Chamber of Shipping of America (CSA) for assisting a stricken vessel 30 miles west of Providenciales, Turks and Caicos Islands, in December.  Crowley crewmembers quickly responded to the 20-foot vessel, which had run out of fuel, providing the crew of two with water, life jackets, flashlights and a hand-held radio until the Coast Guard arrived to provide further assistance.
Crowley's Andrew Legge, manager of operation integrity, ship management, accepted the letter on behalf of theExplorercrew at the CSA safety awards banquet, recently held in New Orleans. CSA safety awards are given annually to crews who render assistance to those in danger at sea.
The letter of recognition said: "We commend the crew of the TugExplorerfor [its] actions and dedication to duty December 19, 2012, when you notified the U.S. Coast Guard Rescue Coordination Center, Miami, Fl, that you were on scene with a 20-foot vessel which was disabled with two persons onboard … your actions exemplify the devotion to duty and professionalism of the merchant mariner."
The crew's efforts assisting the marooned vessel were also praised by Coast Guard Rear Admiral William Baumgartner, who serves as commander of the Seventh Coast Guard District in Miami. Following the incident, Baumgartner issued an official letter to the Jacksonville-based crew, which included Captain Andrew Smith; David W. Keefe, chief mate; Robert A. Malouin, chief engineer; Marcus Huntley, A/B; Raymond A. Petterson, A/B; and Richard C. Smith, ordinary seaman.
He expressed his sincere appreciation for the crew's assistance. In it, he wrote: "The humanitarian actions taken by the crew of the tugExplorerare in keeping with the highest traditions of professional mariners. Please accept my personal thanks to you and your entire crew for a job well done!"
The Explorer, based in Jacksonville, is used in Crowley's Puerto Rico liner services operation, regularly towing company-owned triple-deck Ro/Ro barges between Jacksonville and San Juan.
Jacksonville-based Crowley Holdings Inc., a holding company of the 121-year-old Crowley Maritime Corporation, is a privately held family and employee-owned company. The company provides project solutions, transportation and logistics services in domestic and international markets by means of six operating lines of business: Puerto Rico/Caribbean Liner Services, Latin America Liner Services, Logistics Services, Petroleum Services, Marine Services and Technical Services. Offered within these operating lines of business are: liner container shipping, logistics, contract towing and transportation; ship assist and escort; energy support; salvage and emergency response through its TITAN Salvage subsidiary; vessel management; vessel construction and naval architecture through its Jensen Maritime subsidiary; government services, and petroleum and chemical transportation, distribution and sales. Additional information about Crowley, its subsidiaries and business units may be found on the Internet at www.crowley.com.
#     #     #