Jensen Maritime Awarded for Vision and Innovation in Design of the Northern Leader Fishing Vessel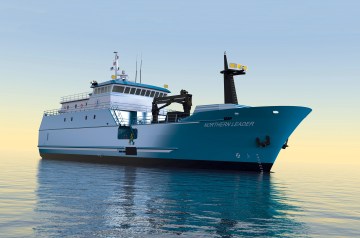 (SEATTLE; December 26, 2012) – Jensen Maritime, Crowley Maritime Corp's Seattle-based naval architecture and marine engineering firm, has been honored with the New Wave Award, which recognizes the company's vision and innovation for the concept and design of the Northern Leader, a 184-foot long, environmentally-friendly longline fishing vessel owned by Alaskan Leader Fisheries LLC.
The New Wave Award is issued each year by National Fisherman and WorkBoat magazines during Boatyard Day, an event held during Seattle's Pacific Marine Expo. Boatyard Day celebrates the boatbuilding industry with a series of special events honoring excellence in vessel design, construction and gear for the commercial fishing industry.
The Northern Leader will be one of the world's largest commercial longline fishing vessels and is also the first Z-drive, diesel-electric fishing boat ever produced. Jensen has provided complete marine engineering services for the vessel, ranging from concept design to production engineering and even 3D fly-through modeling.
"We are proud of the innovation we've been able to infuse into the design of Northern Leader," said Jensen's Johan Sperling, vice president. "We know that commercial fishermen operate in some of the world's harshest and most isolated environments, which can create extremely hazardous working conditions. To counteract the dangers and increase the comforts for the crew, we have designed a vessel that will keep them safe from harm, while capitalizing on the small seasonal window they have for harvesting their catch. The vessel's 'green' features will also help sustain Alaska's fish population, and thus their livelihood, for years to come."
Jensen is no stranger to award-winning work. The group was recently recognized for its design of two Crowley-owned ocean class tugboats, Ocean Wind and Ocean Wave, and for the Murden, a hopper dredge vessel developed for the U.S. Army Corps of Engineers. They have also been honored in the past with several WorkBoat Significant Boat Awards.
When complete, the Northern Leader will be 184-feet long, 42-feet wide and will have a depth of 18.75 feet.  It will be used in support of commercial, longline fisheries in the North Pacific, Bering Sea and Aleutian Islands. Longline fishing is a technique that uses a long, main line that can be many miles in length, with baited hooks attached at intervals to target swordfish, halibut, tuna, sablefish, rockfish and other species.
This environmentally-conscious vessel design allows for full utilization of the targeted fish species by using equipment with minimal environmental impact on the ocean's ecosystem, while maintaining the lightest possible operational fossil fuel footprint. Designed to be fully diesel-electric, per customer specification, the Northern Leader will feature lower emissions and higher fuel efficiency. It has also been designed to reduce waste and maximize the value of the catch through full utilization of primary and secondary, less-valuable products. The vessel has the space and capacity to save components of the catch that would have previously been discarded.
The vessel will have 38,000-cubic feet of freezer hold representing a frozen production capacity of 1,867,000 pounds, making it one of the largest capacities of any longliner vessel. It will also be capable of fishing 76,800 hooks using a Mustad Autoline Super Baiter (Norway) simultaneously and will have a daily freezing capacity of 153,000 pounds of H&G production.
With a fuel capacity of approximately 136,000 gallons, its propulsion will be powered by (2) Schottel Z-Drive rudder propellers, type SRP1012FP (1,000 kW each) and (1) Schottel tunnel thruster type STT170FP (300 kW). The diesel generating system will be provided by NC Power Systems of Seattle and will consist of (4) Caterpillar C32 gensets rated at 715 kW each, (1) Caterpillar C18 gensets rated at 425 kW each, and (1) Caterpillar C9 genset rated at 238 kW.
The vessel will be ABS classed for the Maltese Cross, A1 Fishing Vessel with AMS. Total international tonnage is estimated at 1800 ITC.
The Northern Leader is currently under construction at J.M. Martinac Shipbuilding Corp., in Tacoma, Wash., and is expected to be delivered to its homeport of Kodiak, Alaska, in April 2013.
Seattle-based Jensen Maritime Consultants, Inc., is a naval architecture and marine engineering firm owned by Crowley Maritime Corporation. The company offers a diverse range of consulting, design and engineering services developed from more than 50 years of experience working around the world. Jensen is a recognized leader in the design of all types of vessels – particularly workboats, fishing boats and fireboats – and has built a favorable reputation on a long history of successful designs and conversions with close attention to engineering basics. The company's services include detail and conceptual design and engineering, lofting, regulatory and shipyard liaison as well as on-site consulting services and on-location assistance anywhere in the world. Additional information about Jensen may be found on the Internet at www.jensenmaritime.com.
#   #   #