Crowley's Logistics Group Named a 2012 Great Supply Chain Partner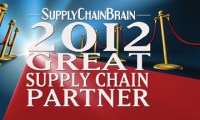 (JACKSONVILLE, FL; July 2, 2012) – Crowley Maritime Corporation'slogistics group has been recognized as a 2012 Great Supply Chain Partner by a major logistics industry trade publication. The recognition followed a six-month online poll in which supply chain professionals were asked to nominate vendors and service providers whose solutions have made a significant impact on their company's efficiency, customer service and overall supply chain performance.
"We are pleased and honored to have our customers recognize us for the value we are able to bring to their supply chains," said Steve Collar, Crowley's senior vice president and general manager of logistics. "Crowley has worked hard to distinguish itself by closing the loop on logistics services in order to provide a single-sourced, full-cycle supply chain management solution within its regional service offerings."
Crowley has continued its recent evolution towards a one-stop shop for logistics services with significant geographic expansion in the Caribbean to include Puerto Rico and 24 other Caribbean destinations, but it doesn't stop there. The company also has the ability to provide documentation, cargo insurance, cargo clearances and transshipments from the Far East andEurope, and continues expanding its other service trade lanes including, theU.S., Central America and portions of South America, such as Colombia and Surinam.  With a single point of accountability and contact, customers enjoy the experience and knowledge of Crowley along with company run and maintained equipment, vessels and a sprawling distribution center network.
"The 2012 July/August issue of SupplyChainBrain magazine includes the select list of companies whose solutions and services have been so impressive, that their customers took the time to write and let us know," said Brad Berger, publisher.  "Our compliments to Crowley logistics on making this select list of 100 companies who received the most qualified nominations!"  
This is the tenth year SupplyChainBrain has surveyed its readership and announced its list of Great Supply Chain Partners. 
Jacksonville-based Crowley Holdings Inc., a holding company of the 120-year-old Crowley Maritime Corporation, is a privately held family and employee-owned company. The company provides project solutions, transportation and logistics services in domestic and international markets by means of six operating lines of business: Puerto Rico/Caribbean Liner Services, Latin America Liner Services, Logistics Services, Petroleum Services, Marine Services and Technical Services. Offered within these operating lines of business are: liner container shipping, logistics, contract towing and transportation; ship assist and escort; energy support; salvage and emergency response through its TITAN Salvage subsidiary; vessel management; vessel construction and naval architecture through its Jensen Maritime subsidiary; government services, and petroleum and chemical transportation, distribution and sales. Additional information about Crowley, its subsidiaries and business units may be found on the Internet atwww.crowley.com.
#     #     #