Crowley's Liner and Logistics Team Receives Outstanding Service Award from Payless ShoeSource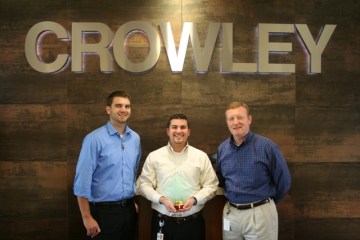 (Jacksonville, Fla.; June 14, 2012) – Payless ShoeSource has honored Crowley Maritime Corporation's liner and logistics team with an Outstanding Service Award for the company's 100 percent on-time performance in 2011, which included ground transportation of 256 loads of cargo from the Payless distribution center in Brookville, Ohio, to Jacksonville, Fla., Crowley's South Atlantic load port for containerized cargo shipments to Puerto Rico.     
In Jacksonville, Crowley loads Payless cargo onto vessels for shipment to Puerto Rico. Crowley has been Payless' primary ocean carrier to Puerto Rico for nearly 20 years.
"We are honored by this award, which recognizes Crowley's high performance and end-to-end logistics services," said Steve Collar, Crowley's senior vice president and general manager, logistics. "However, we are equally honored to have been able to provide total cargo solutions to our longtime business partner, Payless, throughout the years."
"Crowley customers can arrange for complete shipping and logistics services from anywhere in the domestic U.S. to Puerto Rico and 24 islands in the Caribbean," said John Douglass, Crowley's senior vice president and general manager, Puerto Rico and Caribbean liner services. "As we continually improve our services in this region, customers such as Payless are taking advantage of the total cargo solutions we can provide. We are pleased to continue serving them in this way."
In 2004, Payless also awarded Crowley with an International Partnership Award that recognized service excellence and the companies' longstanding mutually beneficial relationship.
Crowley's John Kelley, director of national accounts, accepted the award on behalf of the company at Payless' headquarters in Topeka, Kansas.
Jacksonville-based Crowley Holdings Inc., a holding company of the 120-year-old Crowley Maritime Corporation, is a privately held family and employee-owned company. The company provides project solutions, transportation and logistics services in domestic and international markets by means of six operating lines of business: Puerto Rico/Caribbean Liner Services, Latin America Liner Services, Logistics Services, Petroleum Services, Marine Services and Technical Services. Offered within these operating lines of business are: liner container shipping, logistics, contract towing and transportation; ship assist and escort; energy support; salvage and emergency response through its TITAN Salvage subsidiary; vessel management; vessel construction and naval architecture through its Jensen Maritime subsidiary; government services, and petroleum and chemical transportation, distribution and sales. Additional information about Crowley, its subsidiaries and business units may be found on the Internet atwww.crowley.com.
#     #     #
Caption, left to right: Brandon Michaelis, clerk, intermodal; Eric Bateh, representative, inland operations; and Brian Bain, supervisor, customer care