Crowley's Alert Tugboat Recognized for Courage, Teamwork and Professionalism during the Kulluk Drill Rig Emergency Rescue Tow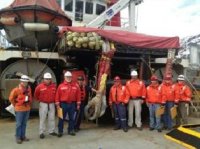 (VALDEZ, Alaska; June 18, 2013) – The captain and crew of Crowley's Prevention and Response tug (PRT) Alert were personally recognized by Representative Eric Feige from the Alaska State Legislature for courage, teamwork and professionalism during the emergency rescue tow of the drill barge Kulluk off the southern point of Kodiak Island.   
During their meeting, he presented them with a letter of commendation from the members of the 28th Alaska State Legislature, which stated the following: "The crew safely and methodically adapted to changing conditions, used their training to identify and manage hazards, and then performed each task to minimize the risks associated with those hazards…We express our admiration and respect to each man individually, and to the crew for its superb teamwork, conducting themselves at all times as professional mariners in an extreme and challenging incident."
Typically used for tanker escorts to and from the Alyeska Valdez Marine Terminal, the 10,192-horsepower Alert departed Valdez in response to the Unified Command's request for assistance and arrived on scene to find Kulluk adrift at 4.5 knots in rough weather and sea conditions. The crew of Alert was able to catch a training line from Kulluk, despite having their deck awash by 30-foot seas, and proceeded to tie off and commence tow.  The crew slowed and re-oriented the Kulluk's drift so that the original towing tugboat could secure a connection to the drilling rig. However, with increasing heavy weather the original towing tug connection parted after approximately 10 hours.
Once attached, Alert remained tethered by emergency tow line to the Kulluk and continuously maintained tow. With 54-foot seas and 40 to 50 knot winds, the Alert was being pushed backwards up to two knots toward the Kodiak Island shore. A day later, the Unified Command directed the Alert to release the tow wire. Only after confirmation of the order, did the crew of the Alert reluctantly release their tow wire.
As stated in the commendation referencing the U.S. Coast Guard's investigation of the incident: "The tug Alert and all of Crowley Maritime Services [Crowley] equipment used in the evolution of the rescue attempt and towing of the Kulluk performed flawlessly, met and exceeded standards." 
Following the formal recognition of the crew by Rep. Feige, he along with Mayor Dave Cobb from the City of Valdez, spent two hours touring the Alert and individually congratulating each member of the crew including: Captain Rod Layton, Brad Burger, Brett Spellman, James Mueller, Craig Matthews, Leroy Edenshawn and Walt Nickerson. 
"This was a fine tribute to what we value – our people, operational excellence and innovation," said Charlie Nalen, Crowley's vice president of Valdez Operations.
Crowley's Valdez operation includes personnel and specialized tugs to help protect the environment through a contract with Alyeska Pipeline Service Company's Ship Escort/Response Vessel System (SERVS). As part of the commercial partnership, the company provides tug escorts for tankers traveling through Prince William Sound to and from the Valdez Marine Terminal, assuring safe passage, even under the most extreme winter weather conditions and also provides secure docking and undocking operations at the oil product loading terminals.  Primary tugs in the area include both Alert and Prince William Sound class vessels, all of which were specifically designed for tanker escort and assist work in the region and feature best-in-class technology, firefighting, emergency and oil spill response capabilities. Annual emergency tow exercises of loaded tankers conducted by SERVS well prepared the Alert crew for the Kulluk rescue tow.
 Jacksonville-based Crowley Holdings Inc., a holding company of the 121-year-old Crowley Maritime Corporation, is a privately held family and employee-owned company. The company provides project solutions, transportation and logistics services in domestic and international markets by means of six operating lines of business: Puerto Rico/Caribbean Liner Services, Latin America Liner Services, Logistics Services, Petroleum Services, Marine Services and Technical Services. Offered within these operating lines of business are: liner container shipping, logistics, contract towing and transportation; ship assist and escort; energy support; salvage and emergency response through its TITAN Salvage subsidiary; vessel management; vessel construction and naval architecture through its Jensen Maritime subsidiary; government services, and petroleum and chemical transportation, distribution and sales. Additional information about Crowley, its subsidiaries and business units may be found on the Internet at www.crowley.com.
#     #     #