Crowley Vessels and Crews Awarded Chamber of Shipping of America 2010 Jones F. Devlin Awards for Safety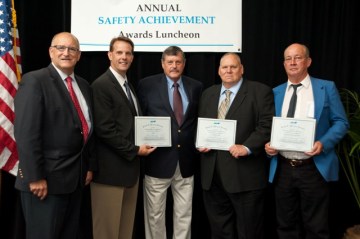 (WASHINGTON, June 14, 2011) ­– Thirty-nine Crowley Maritime Corporation vessels and their crews were awarded the 2010 Jones F. Devlin Award for safety during this month's Chamber of Shipping of America (CSA) Annual Safety Awards Luncheon. Together these vessels represent 160 total years without a Lost Time Incident (LTI), reflecting Crowley's commitment to safety.
The CSA Devlin Award is presented each year to merchant vessels that have operated for at least two years without a LTI. Crowley vessels – such as the ATB Sound Reliance/550-2, which has not had an LTI in eight years – consistently perform above and beyond industry safety standards.
"We have been holding these annual award ceremonies since 1958," said Joseph Cox, president, CSA. "For that initial year, we honored six vessels having a total of twelve years operation with no Lost Time Incidents. This year, we gave awards to 1,288 vessels that operated 7,284 years without a lost-time incident. This extraordinary record is directly attributable to the professionalism of our seafarers and the dedication of shore-based company personnel to safe operation."
More than 180 people representing over 70 companies attended this year's luncheon in New Orleans, La.
"At Crowley, our number one core value is safety," said Capt. Vic Goldberg, Crowley vice president of marine operations. "We are honored to be recognized once again by CSA for our safety accomplishments. These awards are a testament to the devotion our seagoing employees have for the safety of themselves and their fellow shipmates."
The Chamber of Shipping of America represents 33 U.S. based companies that own, operate or charter oceangoing tankers, container ships, and other merchant vessels engaged in both the domestic and international trades and other entities that maintain a commercial interest in the operation of such oceangoing vessels.
Jacksonville-based Crowley Holdings Inc., a holding company of the 119-year-old Crowley Maritime Corporation, is a privately held family and employee-owned company. The company provides marine solutions, transportation and logistics services in domestic and international markets by means of six operating lines of business: Puerto Rico/Caribbean Liner Services, Latin America Liner Services, Logistics Services, Petroleum Services, Marine Services and Technical Services. Offered within these operating lines of business are: liner container and break-bulk shipping; logistics; contract towing and transportation; harbor ship assist and tanker escort; energy support; salvage and emergency response through its TITAN Salvage subsidiary; vessel management; vessel construction and naval architecture through its Jensen Maritime subsidiary; government services, and petroleum and chemical transportation, distribution and sales. Additional information about Crowley, its subsidiaries and business units may be found on the Internet at www.crowley.com.
# # #
Caption, left to right: Vic Goldberg, vice president, marine operations; Cole Cosgrove, vice president, SSQE; Hal McAllister, port captain, operations; Dennis O'Leary, chief mate, Cape Douglass; Charlie Carlson, chief mate, ATB Pride
Vessels owned or managed by the Crowley family of companies that were recognized by CSA with the 2010 Jones F. Devlin Award include the following:
| | |
| --- | --- |
| Vessel Name | Years without LTI |
| ALERT | 6 |
| ATTENTIVE | 6 |
| AWARE | 6 |
| ENDURANCE | 6 |
| GUS E | 6 |
| NANUQ | 5 |
| ROGER G | 6 |
| SEA VOYAGER | 4 |
| TANERLIQ | 4 |
| VALDEZ STAR | 6 |
| ATB COASTAL RELIANCE/550-4 | 2 |
| ATB COURAGE/650-5 | 2 |
| ATB GULF RELIANCE/650-2 | 2 |
| ATB INTEGRITY/650-4 | 2 |
| ATB OCEAN RELIANCE/550-3 | 3 |
| ATB RESOLVE/650-3 | 3 |
| ATB SEA RELIANCE/550-1 | 5 |
| ATB SOUND RELIANCE/550-2 | 8 |
| SS BLUE RIDGE | 5 |
| TUG ADVENTURER | 2 |
| TUG DEFENDER | 2 |
| TUG PILOT | 4 |
| TUG PIONEER | 3 |
| CAPE INTREPID | 5 |
| CAPE ISLAND | 2 |
| CAPE TEXAS | 2 |
| CAPE TRINITY | 4 |
| CAPE WRATH | 3 |
| COURAGE (ARC) | 5 |
| FREEDOM (ARC) | 2 |
| INTEGRITY (ARC) | 4 |
| LIBERTY (ARC) | 2 |
| SS WRIGHT | 4 |
| CAPE DECISION | 5 |
| CAPE DOMINGO | 5 |
| CAPE DOUGLAS | 5 |
| CAPE DUCATO | 6 |
| CAPE EDMONT | 6 |
| ST LOUIS EXPRESS | 2 |