Crowley Honored with Healthiest Company in America Award for Fourth Straight Year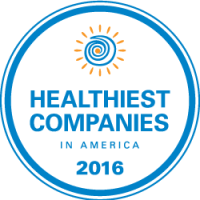 (JACKSONVILLE, Fla.; June 12, 2017) ­– For the fourth consecutive year, Crowley Maritime Corp. has been honored as one of the Healthiest Companies in America by Interactive Health, a national leader for personalized wellness solutions. Crowley is among 156 companies nationally being recognized for helping employees improve their health, sometimes with life-saving changes.
Over 1,700 Crowley employees and spouses participated in the company's Live Well health evaluation and wellness program in 2016, representing about 84 percent of eligible participants.
As Crowley has emphasized wellness programs, employee health improvements have surpassed baseline trends among companies participating with Interactive Health. Achievements by Crowley employees include:
91 percent of members scored in the low risk range in 2015, and remained low risk in 2016

45 percent of members who scored in the moderate risk range in 2015 remained or improved in that range in 2016

43 percent of members with a health score in the high risk range in 2015 improved in 2016

The number of tobacco users continues to decrease – 87 participants have quit since 2013
The continuing recognition reflects Crowley's commitment to supporting employee wellness, recognizing that healthy employees and families also make for a high performing workplace attractive to current and future employees.
"Crowley employees embrace wellness as part of leading a healthy lifestyle, and it shows in the results – enhanced health and wellness among our workers and their families," said Crowley's Katy Keene, manager, employee programs. "Our company understands the benefits of leading a balanced life and supports employees to develop healthy habits, participate in exercise, manage work-life balance, understand emotional well-being, and use resources supporting healthy lifestyles at home and at work."
Using strategic and flexible wellness initiatives, the Healthiest Companies in America recipients have accomplished tremendous success, achieving participation rates of more than 70 percent and a low-risk health score for their total population, based on rigorous and clinically sound health evaluations.
Each year, Crowley provides employees on-site health evaluations and risk assessments through Interactive Health, along with flu shots, health coaching programs, weight management tools, emotional well-being education and gym reimbursement programs. The tailored approach helps employees evaluate their health, identify risks and then follow a personalized course of action to maintain or improve their health.
Crowley also supports a dedicated website that serves as the hub to promote company-wide wellness activities, such as health and nutritional challenges. Besides a monthly newsletter with wellness advice, Crowley's website provides a health library and support for different dimensions of well-being.
As part of its wellness program, Crowley has supported weekly group fitness opportunities, such as running and walking groups, bike riding events, and community sports teams, including soccer, flag football, softball and tennis.
"This is the 10th year we're honoring the Healthiest Companies in America and it continues to inspire us how successful the winning companies are in building and sustaining employee engagement and inspiring positive health outcomes," said Interactive Health President and CEO Cathy Kenworthy. "It is possible to improve health through the right workplace initiatives, and it is smart business. In addition to this year's 156 winners, there are dozens more that are extremely close to obtaining the designation, or have met the criteria in the past, set an even higher bar for their program, and will meet that bar again in the future. We looking forward to inviting more companies into the winner's circle next year as our technology and service enhancements make it even more possible for organizations to improve employee health."
For more information on Healthiest Companies in America, visit here.
Jacksonville-based Crowley Holdings Inc., a holding company of the 125-year-old Crowley Maritime Corporation, is a privately held family and employee-owned company. The company provides project solutions, energy and logistics services in domestic and international markets by means of six operating lines of business: Puerto Rico/Caribbean Liner Services, Latin America Liner Services, Logistics Services, Petroleum Services, Marine Services and Technical Services. Offered within these operating lines of business are: liner container shipping, logistics, contract towing and transportation; ship assist and escort; energy support; salvage and emergency response through its 50 percent ownership in Ardent Global; vessel management; vessel construction and naval architecture through its Jensen Maritime subsidiary; government services, and petroleum and chemical transportation, distribution and sales. Additional information about Crowley, its subsidiaries and business units may be found at www.crowley.com.
#     #     #