Crowley Earns 2012 Fit-Friendly and Healthiest Company Titles
Company Recognized for Ongoing Commitment to Employees' Health and Wellness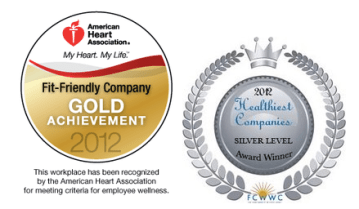 (Jacksonville, Fla., June 28, 2012) ­– Jacksonville-based Crowley Maritime Corporation was recently recognized by the American Heart Association (AHA) and the First Coast Worksite Wellness Council (FCWWC) for being a year-round leader in implementing and promoting health initiatives to employees.
The AHA's Start! Fit-Friendly Companies program named Crowley a 2012 Gold Level recipient and the FCWWC recognized Crowley with a 2012 Silver Level Healthiest Companies award. 
 "It's an honor to be recognized by these organizations," said Bryan Lee, Crowley vice president of human resources. "These awards are a true testament of our commitment to our employees and the efforts we make to encourage and promote healthy lifestyles in and out of the workplace."
This year, Crowley organized several health and wellness events and initiatives to help employees stay healthy, including a company-wide nutrition-focused competition, on-site health screenings, health risk assessments, flu shots, health fairs, and fitness and walking competitions. Crowley has also provided other resources for employees, including gym membership subsidies, weight-loss program reimbursements and wellness tips through newsletters and the company's wellness-dedicated website.
"Our employees are a major part of the company's success," Lee said. "We strongly believe that we, as a company, owe it to our employees to provide resources and to serve as a motivator for leading healthy lives."
This is the second time Crowley has won a Gold Level award from the AHA, and the third consecutive year that it's received a Silver Level award from the FCWWC.
Jacksonville-based Crowley Holdings Inc., a holding company of the 120-year-old Crowley Maritime Corporation, is a privately held family and employee-owned company. The company provides project solutions, transportation and logistics services in domestic and international markets by means of six operating lines of business: Puerto Rico/Caribbean Liner Services, Latin America Liner Services, Logistics Services, Petroleum Services, Marine Services and Technical Services. Offered within these operating lines of business are: liner container shipping, logistics, contract towing and transportation; ship assist and escort; energy support; salvage and emergency response through its TITAN Salvage subsidiary; vessel management; vessel construction and naval architecture through its Jensen Maritime subsidiary; government services, and petroleum and chemical transportation, distribution and sales.
Additional information about Crowley, its subsidiaries and business units may be found on the Internet at www.crowley.com.
#     #     #