Crew of Crowley-Managed Ocean Titan Awarded for Heroism at Sea with 2012 AOTOS Mariners' Plaque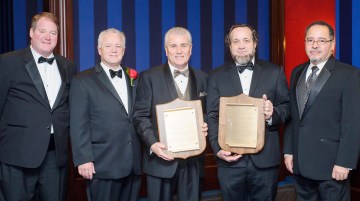 (JACKSONVILLE, Fla.; November 15, 2012) – Officers and crewmembers of the Crowley Maritime Corp.-managed M/V Ocean Titan were recently honored with a 2012 Admiral of the Ocean Sea (AOTOS) Mariners' Plaque for demonstrating heroism at sea during the United Seamen's Service's (USS) annual AOTOS awards ceremony in New York.
The mariners were recognized for their December 2011 rescue of the seven-member crew of the M/V Florece, which sank about 250 miles southwest of Land's End in the Bay of Biscay, near the United Kingdom following a collision with the tanker M/V Afrodite. Accepting the award on behalf of the ship's officers and crew was Capt. Christopher Hill, master on the M/V Ocean Titan. 
The account of the incident provided by the USS said the collision caused the Florece to sink to the ocean floor within an hour, causing the crew of seven to take to lifeboats. Shortly thereafter, the crew of the M/V Ocean Titan received the distress call and, upon arriving on scene, launched rescue operations. The crew faced gale-force winds and 12- to 14-foot seas, and had a full load of cargo. To ensure the crew's safety, Hill decreased the vessel's speed to prevent broaching as he approached, and then idled near the life raft. He used the engines and rudder to block the swell and minimize roll, moving close enough to pull the survivors on board from the raft using a heaving line.
"The Ocean Titan crew saved lives, while demonstrating proficiency and devotion to duty in keeping with the highest traditions of the sea," wrote the USS in its account of the rescue.
"On behalf of everyone at Crowley, we want to commend crew of the Ocean Titan for their truly heroic act," said Mike Golonka, vice president, ship management. "Capt. Hill and his crew showed extraordinary skill to ensure the safety of their own lives while fighting through extreme weather to rescue their seven fellow mariners. Without the crew's bravery, those men may not be alive today."
The M/V Ocean Titan crew involved in the rescue included Capt. Hill, Chief Mate Thomas Lisante, Second Mate Daniel Landgrebe, Third Mate Zachary Gray, Chief Engineer John Vlahakis, First Assistant Engineer Sean Donovan, Bosun Magdy Balat, AB Hilario Rochez, AB James Luttrell, AB Miguel Angel Matos, QMED Electrician Michael Kelly, GUDE Stephon Thompson, Steward Lawrence Winfield and ACU Steven Holmes.
The M/V Ocean Titan is operated by Intermarine LLC through its U.S.-flag affiliate, US Ocean LLC, as part of its U.S.-flag heavy-lift service. Crowley began managing vessels for Intermarine in October 2011, including the technical management of the M/V Ocean Titan in April 2012. This U.S.-flag, heavy-lift/multipurpose cargo vessel operates around the world and is 393 feet long with a gross tonnage of 7,252.
Jacksonville-based Crowley Holdings Inc., a holding company of the 120-year-old Crowley Maritime Corporation, is a privately held family and employee-owned company. The company provides project solutions, transportation and logistics services in domestic and international markets by means of six operating lines of business: Puerto Rico/Caribbean Liner Services, Latin America Liner Services, Logistics Services, Petroleum Services, Marine Services and Technical Services. Offered within these operating lines of business are: liner container shipping, logistics, contract towing and transportation; ship assist and escort; energy support; salvage and emergency response through its TITAN Salvage subsidiary; vessel management; vessel construction and naval architecture through its Jensen Maritime subsidiary; government services, and petroleum and chemical transportation, distribution and sales. Additional information about Crowley, its subsidiaries and business units may be found on the Internet atwww.crowley.com.
#  #  #
Caption: Accepting the AOTOS Mariners' Plaque on behalf of the officers and crew of the M/V Ocean Titan was Captain Christopher Hill (second from right). Accepting the Mariners' Plaque on behalf of the officers and crew of the USNS 1st LT Baldomero Lopez was AMO National Executive Vice President Robert Kiefer. With them at the AOTOS awards ceremony were (left to right) AMO National Assistant Vice President David Weathers, AMO National President Thomas Bethel and AMO National Secretary-Treasurer José Leonard. Photo courtesy AMO.