"Goin' BIG" – Jensen Featured in "National Fisherman" Cover Story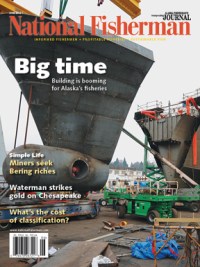 Goin' BIG
Longliners and trawlers take center stage at the nation's yards
For the past few years, new boat construction for the West Coast and Alaska fisheries has been defined by gillnetters and 58-footers. But in the past year builders have seen a surge in the construction, rebuilding or extensive modifying of large boats for those fisheries. It's a case of upgrading older boats to make them more efficient and safer, sticking with proven designs, or in one case, jumping way ahead of the pack in terms of propulsion choices. Four boats, which all benefited from the naval architecture and marine engineering services of by Jensen Maritime, are perhaps an example of what other boat owners will be doing in the near future.
Click here to view the a .PDF version of the full story:
Jensen-National-Fisherman-Cover-Story-Goin'-Big
Shipping & Logistics Announcements
Jamaica – National Holidays (Emancipation & Independence Day)
To our Crowley partners, In observance of Emancipation Day and Independence Day, our offices in Jamaica will be closed on Monday, August 2 and Friday, August 6 respectively. We will hold normal business office hours throughout the rest of the week. If you have any questions, please contact your sales or customer service representative at 1-800-CROWLEY. Thank you for your continued support.
Read More
Shipping & Logistics Announcements
Inland Cost Monitoring – June 2021
To Our Crowley Logistics Partners, For June 2021, the CASS Index, which is used to monitor and evaluate U.S. Inland rates reflected an average of 148.40. As a result, tariff and contract motor and rail rates will not change on September 1, 2021. Please find additional details related to CASS Index in this downloadable pdf. […]
Read More