Made Possible by Crowley: Scholarship Helps Puerto Rican Student Pursue a College Education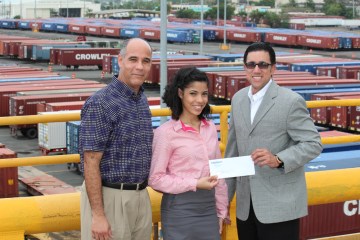 Photo caption, from left to right: Roberto Lopez Colon, scholarship recipient's father; Coraly Lopez Ortiz, scholarship recipient; Jose Ayala, vice president of Crowley Puerto Rico services 
(San Juan, Puerto Rico, November 30, 2012) ­– Years of studying and dedication are paying off for 17-year-old Coraly Lopez Ortiz, who has begun her first year of college at University of Puerto Rico (UPR), thanks in part to the support of Crowley Maritime Corporation, which recently awarded her with its 2012 Thomas B. Crowley Sr. Memorial Scholarship.
Ortiz, whose parents' medical ailments have kept them from working since 2010, proved to be a worthy recipient of this prestigious award due to her strong academic record and commitment to pursuing an education despite tough financial circumstances. 
"We have had to cut down on expenses but education has always been a priority in my family," said Ortiz in her scholarship application. 
She recently graduated from Casiano Cepeda High School in Rio Grande, Puerto Rico, where she attended the school's commercial education vocational program and volunteered tutoring her peers in a variety of subjects after school. 
"We are extremely pleased to not only recognize students like Coraly, but to encourage academic excellence among all Puerto Rican students, regardless of what hardships they may endure. Her story is a great example of how they can overcome those obstacles and achieve their goals," said Jose Ayala, vice president of Puerto Rico services for Crowley. 
Ortiz is pursuing a degree in business administration and credits the scholarship for granting her the funds to allow her to focus on her studies and continue tutoring her peers. 
She is one of more than 275 students in the U.S., Alaska, Puerto Rico and Central America to receive a Crowley Scholarship since 1984. Crowley has also donated more than $2 million over the years to support other educational programs.
In 1994, Crowley Chairman, President and CEO, Tom Crowley Jr., established the Thomas B. Crowley Sr. Memorial Scholarship Program, in honor of his father, who guided the company to extraordinary heights before passing away in 1994. The company continues to give scholarship dollars to deserving students. To learn more about the Thomas B. Crowley Sr. Memorial Scholarship program or how to apply, click here.
Crowley has operated in Puerto Rico since 1954, and during that time has developed a strong and lasting relationship with the Puerto Rico community. The company employs more than 260 people on the island, and is the leading ocean cargo carrier in the Puerto Rico trade, transporting one out of every three containers or trailers moving between Puerto Rico and the U.S. mainland. The company offers up to three weekly sailings between San Juan and Jacksonville, Fla., and a weekly sailing between San Juan and Pennsauken, N.J. Crowley also provides weekly sailings between San Juan and the Dominican Republic, U.S. Virgin Islands and Eastern Caribbean. Additionally, Crowley has 119,800 square feet of warehouse space on the island, allowing customers to arrange for complete shipping and logistics services – including liner shipping from the mainland and 24 islands in the Caribbean; door and scheduled deliveries; air freight; export and import consolidations; cargo insurance; warehousing and inventory management; customs brokerage; freight forwarding; Hacienda tax clearance; intra-island trucking (less-than and full-container loads); cross docking; cargo segregation; container loading; pick & pack; packing and crating; labeling, and scanning services to facilitate cargo tracking.
Additional information about Crowley, its subsidiaries and business units may be found at www.crowley.com.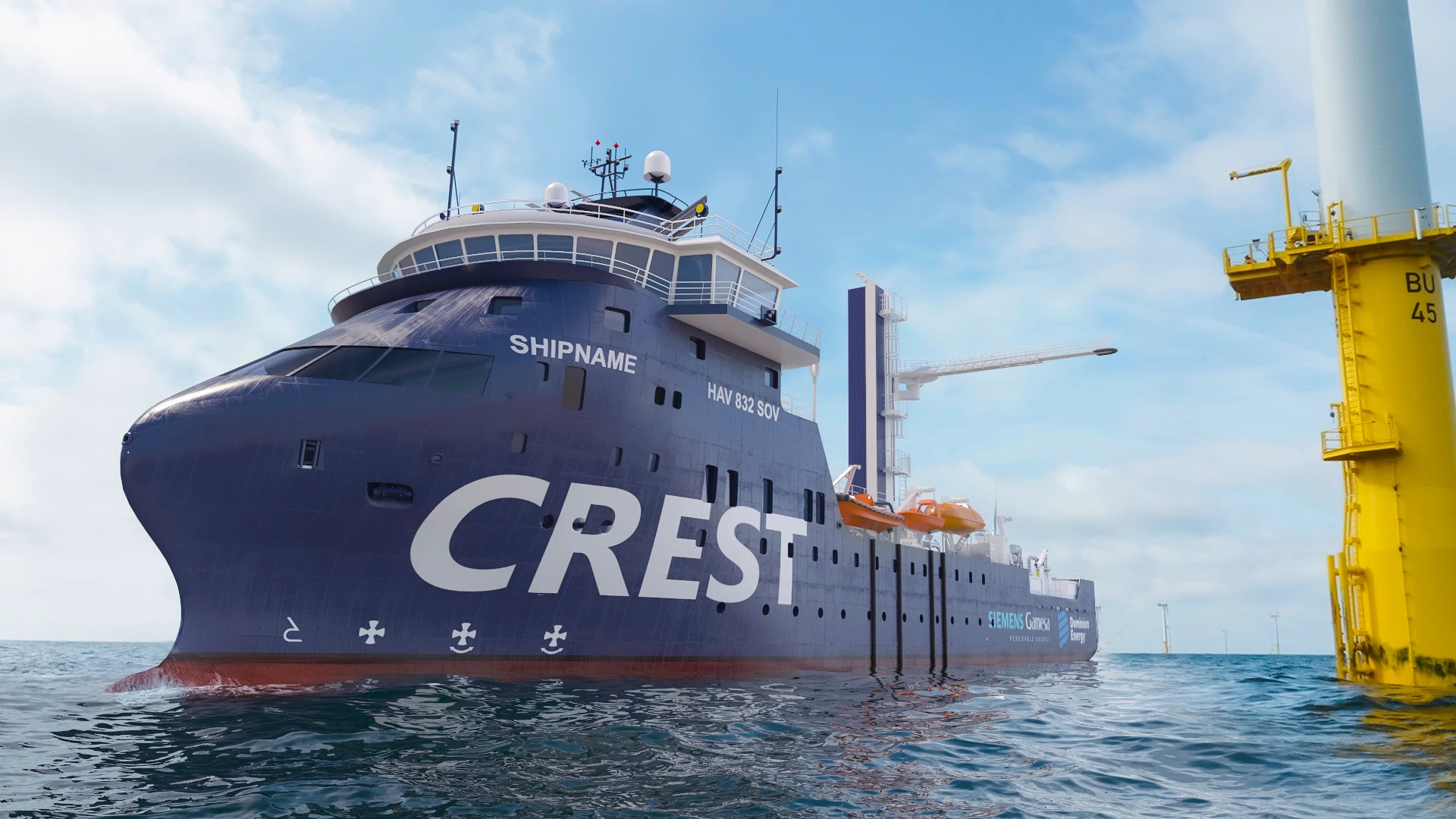 Press Releases
Construction Begins on Crowley-ESVAGT Wind Farm Service Vessel
Fincantieri Bay Shipbuilding began construction today on a 289-foot service operation vessel (SOV) for a Crowley-ESVAGT joint venture that will house and transport technicians to maintain U.S. offshore wind farms.
Read More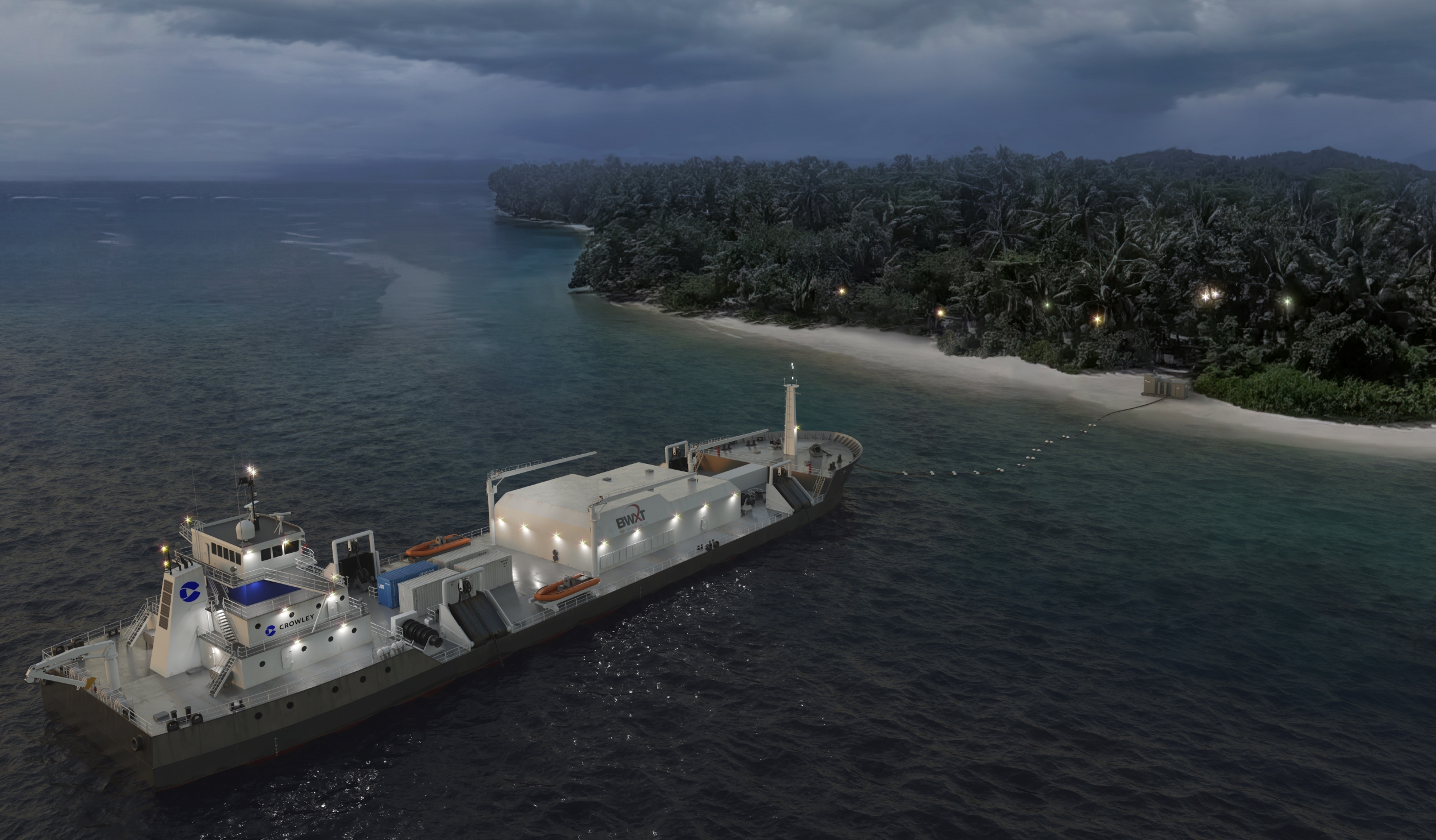 Press Releases
Crowley, BWXT Debut Nuclear Power Generation Vessel Concept
Global shipping and energy supply chain leader Crowley has teamed with nuclear power leader BWX Technologies, Inc. (NYSE: BWXT) through a memorandum of understanding for a ship concept that has the potential to generate alternative, zero-carbon emission energy for defense and disaster needs by including a microreactor on board.
Read More