Domestic Trucking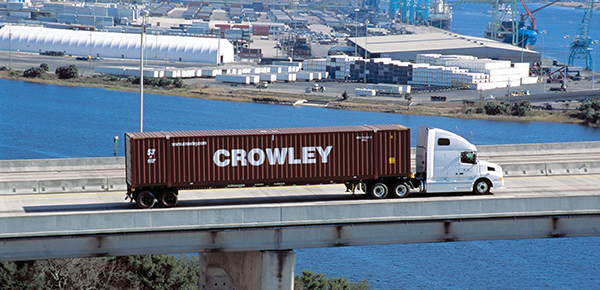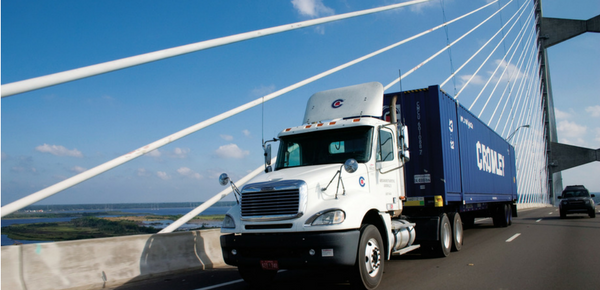 Crowley's North American trucking and logistics team is your single source for a complete supply chain solution and offers a wide range of services to optimize supply chains, including full truckload, less-than-truckload (LTL) and intermodal rail. Customers working with Crowley have complete access to all its services, which are bolstered by 125 years of proven experience in the logistics and transportation industry.
Our professionals are specially trained to offer best-in-class domestic trucking and logistics services individually or on an integrated basis, ensuring that your satisfaction is the number one priority. Allow our team of specialized trucking and distribution experts to analyze your transportation network and design a unique program to streamline your processes. Trust Crowley to get the job moving, wherever and whenever you need it.
Customers:
Surface Deployment and Distribution Command (SDDC)
U.S. Transportation Command (TRANSCOM)
U.S. Department of Homeland Security (DHS) / Federal Emergency Management Agency (FEMA)
Services
Truck Brokerage
Crowley partners with more than 6,000 carriers to provide truck brokerage services that meet or exceed your full truckload, drayage, refrigerated (reefer), hazardous, or cross-dock service needs across the U.S., Canada and Mexico.
Truck brokerage services include:
FTL
Drayage
Reefer and temperature Controlled
Transloading/Cross-dock
Hazardous materials (HAZMAT)
Project
Out-of-gauge
LTL Brokerage
Crowley leverages its buying power and global relationships to provide high-quality less-than-truckload (LTL) services at fair prices. We partner with other top asset-based LTL providers and use our own network of Crowley warehouses to broker custom solutions for you.
Asset-Based Trucking
Crowley offers asset-based transportation services throughout the U.S. through its agency based company, Customized Trucking. This growing team is built on more than 300 active trucks to move freight quickly and safely.
Asset-based trucking equipment and services include:
Dry vans
Flatbeds
Petroleum Drop trailers
Team drivers
Intermodal Services
Crowley offers intermodal truck and rail drayage service throughout the U.S. for seamless and cost-effective container movements. Crowley's partnerships with Class I railroads give customers access to all major rail ramps. When paired with the company's established ocean liner services, customers gain full supply chain solutions at highly competitive rates.
Supply Chain Optimization
As a value-added service, Crowley uses its 125 years of experience improve transportation costs and operational processes for its customers' supply chains. Services include:
Analytics
Advanced reporting
Lane optimization
Supply chain planning
Cost analysis and controls
Central America