Petroleum Distribution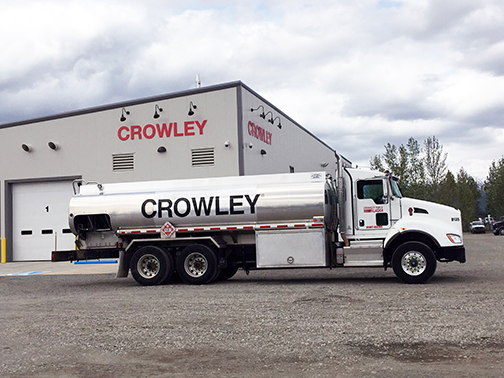 Surface Distribution
For inland Alaska customers, Crowley is proud of our award-winning fleet of linehaul trucks and trailers that specialize in direct delivery of bulk fuels and packaged petroleum products over the road.  The fleet delivers more than 100 million gallons over 2 million miles driven annually. 
Additionally, in the past six years, Crowley has made significant investments in new equipment in its Alaska linehaul division to support the changing and challenging fuel distribution needs of the state safely and reliably. The company operates a state of the art fleet maintenance facility in Palmer, Alaska as well as two satellite maintenance facilities in Glennallen and Fairbanks.
The company has also worked hard to incorporate advanced safety equipment and industry best practices into its fleet and program, improve communication and compliance, and collect feedback to improve operations. These improvements are some of the key reasons Crowley was recently honored with its fourth "Alaska Safe Truck Fleet of the Year" award by the Alaska Trucking Association and ConocoPhilips. 
Aircraft Fuels
Wherever your flight plans take you in the state of Alaska, Crowley is committed to providing commercial, government and private aircraft pilots with the highest quality of fuel for their aircraft. All of our fuels meet exacting quality standards and are diligently maintained by our seasoned professionals throughout the supply chain, from their point of refinement, through various distribution channels, into and out of our storage tanks and ultimately into airside or belly tanks, or even single point fueling into aircraft wing. Fuels areroutinely monitored and tested for quality every step of the way.
We provide convenient, 24-hour self-service aviation fuel card lock stations; staffed, public aviation fuel terminals, and a large fuel terminal network. Products include JP8, Jet A and AV 100LL fuels, hydraulic fluids and aviation lubricants.
Government Customers
Defense Logistics Agency-Energy (DLA-Energy)
Other Department of Defense and Civilian Agencies