Crowley Recognized as One of Jacksonville Magazine's Companies that Care 2011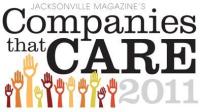 Crowley's community outreach efforts were recently recognized at the annual Companies that Care 2011 awards luncheon presented by Jacksonville Magazine. The event recognizes Northeast Florida businesses that consider community responsibility and involvement a part of corporate profits.
Crowley's community outreach and service efforts are not only found in Jacksonville, but around the U.S., Alaska, Central America, the Caribbean and other locations the company operates in. The company supports education by helping to develop the leaders of tomorrow by providing college scholarships to deserving students from Alaska to Central America, and points in between. Since 1984, Crowley has provided more than half-a-million dollars in scholarship aid to more than 200 students and has also donated about $2 million to education programs. Additionally, Crowley pioneered the Buddy Program, a mentoring program for Jacksonville students in partnership with the Duval County Public School Board.
Each Crowley location also has the freedom to choose which charitable organizations to support via volunteerism, fundraising and financial assistance. From homeless shelters to childrens' homes, Crowley employees in Jacksonville and throughout the world make a difference in the communities they serve.
While Crowley and its employees support a plethora of charitable organizations worldwide, Jacksonville Magazine specifically highlighted and praised the company's work with Safe Harbor Maritime Academy, formerly known as Safe Harbor Boys Home. The residential, Christian school uses the waterfront as an educational facility for at-risk teenage boys. The home provides a safe, stable, structured, alternative home environment. Several employees regularly give of their time at the academy and the company gives a quarterly donation. For more information about Safe Harbor, click here.
To learn more about Crowley's charitable outreach, click here.