Crowley's Ocean Rangers Help Keep Alaska's Cruise Liners Environmentally Up-to-Date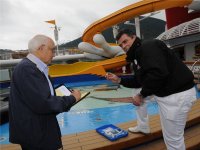 Crowley's Ocean Rangers are highly trained engineer-and-environmental-watchdog hybrids, who each have a passion for Alaska. They spend months at a time riding along with these vessels during the state's busy tourist season.
Rangers act as independent observers who assure compliance with federal and state environmental health, sanitation and safety requirements.
The rangers help meet the regulations and standards set forth by the Alaska Department of Environmental Conservation (ADEC). The ADEC needed help with constructing a program to help them ensure safety, environmental compliance and sanitation among that Alaskan cruise ships. 
(Link to more on the Ocean Rangers: https://www.crowley.com/success-stories/Ocean-Rangers)