Crowley Takes Delivery of First of Four New, Jones Act Tankers from Aker Philadelphia Shipyard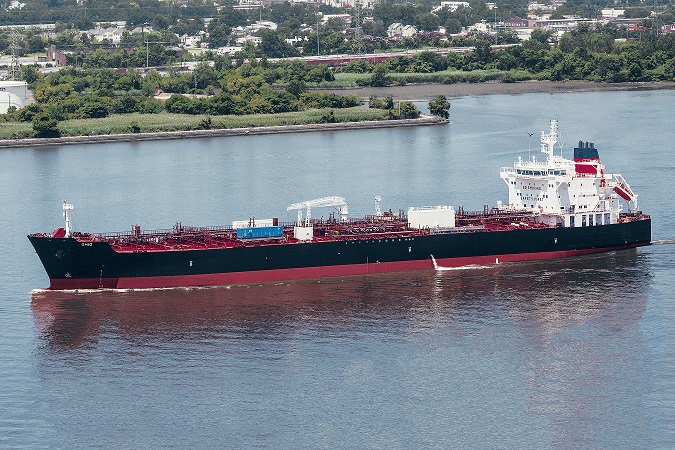 (Oct. 1, 2015; PHILADELPHIA) – Crowley Maritime Corp. took delivery of Ohio, the first of four new, Jones Act, product tankers this week from Aker Philadelphia Shipyard, Inc. (APSI), the wholly-owned U.S. subsidiary of Aker Philadelphia Shipyard ASA. The delivery is momentous not only for Crowley, but also for the industry because it signifies the first time a product tanker has been constructed with consideration for the future use of LNG for propulsion. The remaining three product tankers being built by APSI for Crowley are currently under construction and have planned deliveries through 2016.
"We are excited to offer our customers cutting-edge technology available in these new tankers, which not only embraces operational excellence and top safety, but also offers the potential to be powered by environmentally friendly LNG in the future," said Crowley's Rob Grune, senior vice president and general manager, petroleum and chemical transportation. "Adding these new Jones Act tankers to our fleet allows us to continue providing our customers with diverse and modern equipment to transport their petroleum and chemical products in a safe and reliable manner."
"We are proud to have Crowley as a repeat customer at the shipyard and to deliver another quality tanker to them. This vessel continues our strong history of building ships here in Philadelphia," said Steinar Nerbovik, president and CEO, APSI.
The new 50,000 dwt product tankers are based on a proven Hyundai Mipo Dockyards (HMD) design which incorporates numerous fuel efficiency features, flexible cargo capability, and the latest regulatory requirements. The vessel is 600 feet long and is capable of carrying crude oil or refined petroleum products. 
Crowley's Seattle-based, naval architecture and marine engineering subsidiary Jensen Maritime is providing construction management services for the product tankers. Jensen now has an on-site office and personnel at the Philadelphia shipyard to ensure strong working relationships with shipyard staff and a seamless construction and delivery program.
About Aker Philadelphia Shipyard
Aker Philadelphia Shipyard is a leading U.S. commercial shipyard constructing vessels for operation in the Jones Act market.  It possesses a state-of-the-art shipbuilding facility and has earned a reputation as the preferred provider of oceangoing merchant vessels with a track record of delivering quality ships. Aker Philadelphia Shipyard is listed on the Oslo Stock Exchange and is majority-owned by Converto Capital Fund, which in turn is majority-owned by Aker ASA. Aker is a Norwegian industrial investment company that creates value through active ownership. Aker's investment portfolio is concentrated on key Norwegian industries that are international in scope:  oil and gas, fisheries and biotechnology, and marine assets. Aker's industrial holdings comprise ownership interests in Aker Solutions, Kvaerner, Det norske oljeselskap, Aker BioMarine, Ocean Yield, Havfisk and Akastor.
About Crowley
Jacksonville-based Crowley Holdings Inc., a holding company of the 123-year-old Crowley Maritime Corporation, is a privately held family and employee-owned company. The company provides marine solutions, energy and logistics services in domestic and international markets by means of six operating lines of business: Puerto Rico Liner Services, Caribbean and Latin America Liner Services, Logistics Services, Petroleum Services, Marine Services and Technical Services. Offered within these operating lines of business are: liner container shipping, logistics, contract towing and transportation; ship assist and escort; energy support; salvage and emergency response through its 50 percent ownership position in Ardent Global;  vessel construction and naval architecture through its Jensen Maritime subsidiary; global ship management; government services, and petroleum and chemical transportation, distribution and sales. Additional information about Crowley, its subsidiaries and business units may be found on the Internet at www.crowley.com.
About Jensen Maritime
Seattle-based Jensen Maritime Consultants, Inc. is a full service naval architecture and marine engineering firm owned by Crowley Maritime Corporation. With more than 50 years experience working around the world, Jensen offers a diverse range of consulting, design and engineering services. The company is a recognized leader in the design of many types of workboats and offshore vessels and has built a favorable reputation over a long history of successful designs and conversions – always paying close attention to the entire design lifecycle. Jensen's services include vessel design, construction management, production engineering, project management and salvage engineering as well as on-site consulting services and on-location assistance anywhere in the world. Additional information about Jensen may be found at www.jensenmaritime.com.
# # #