Crowley Christens One of the Largest, Safest ATBs in Industry
330,000-Barrel Capacity, 15-Knot Speed Make it Crowley's Largest and Fastest Articulated Tug-Barge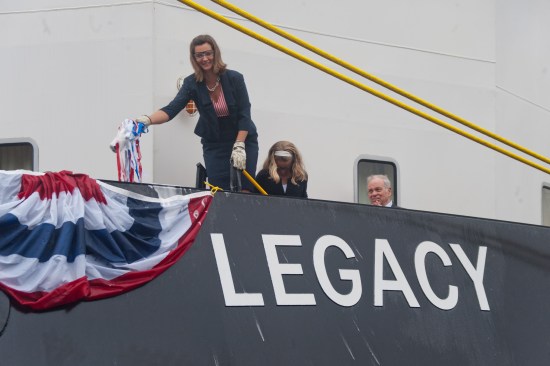 (NEW ORLEANS; Nov. 3, 2011) – As a part of the company's industry-leading new vessel building program, Crowley Maritime Corp. christened its largest and fastest articulated tug-barge (ATB), the Legacy/750-1, today in New Orleans.
The high-capacity tank barge is able to carry up to 330,000-barrels of petroleum products and the 16,000-horsepower tug can generate speeds of 15 knots or more, making the ATB an industry leader. When coupled together, the vessels measure 674 feet in length, only 23 feet shorter than One Shell Square, the tallest building in New Orleans and the state of Louisiana.  The ATB's design, construction and systems exceed industry standards for the safest possible transportation of petroleum and chemical products.
"This class of ATB is among the largest, safest and fastest in the trade," said Crowley's Chairman, President and CEO Tom Crowley. "We are raising the bar in terms of reliability, cargo flexibility and environmental friendliness through our industry-leading new-build program. And the investments we are making will serve the needs of our customers for many years to come."
Vessel sponsors Christine Crowley, wife of Tom Crowley, and Carole Shaffner, wife of Senior Vice President of Transportation and Logistics George Shaffner of Marathon Petroleum Corporation, performed the time-honored tradition of christening the vessels. More than 200 guests, including friends and employees from Crowley; the shipyards – VT Halter Marine, of Pascagoula, Miss., and Dakota Creek Industries, of Anacortes, Wash. – and vessel charterer, Marathon Petroleum, attended the event. A celebratory reception followed at the nearby Hilton Riverside.
"We are thrilled to take delivery of this state-of-the-art ATB and to be able to put her to work for Marathon Petroleum," said Rob Grune, senior vice president and general manager, petroleum services. "Our customers today expect nothing less than best available technology, safety and cost effectiveness when it comes to the design and operation of innovative new vessels to meet their transportation requirements. Not only will these vessels be able to carry 330,000-barrels of product safely, but we also expect them to do so quickly – at speeds of 15-plus knots."
The 750-1/Legacy is the first of three U.S. – flag 750 Class ATBs to be built for Crowley. Two more – the Legend/750-2 and Liberty/750-3 – are currently under construction and once completed, all three ATBs will be operated in the Jones Act U.S. coastwise trade by Crowley's petroleum services group.  These three new vessels will bring Crowley's total ATB fleet to 17, including four 155,000-barrel and ten 185,000-barrel ATBs. The 750-1/Legacy will be operated by Crowley for Marathon Petroleum under a long-term charter arrangement.
The 750-Class barges are 45,000 deadweight tons, 600 feet in length, 105-feet, six-inches in breadth and 54-feet, three-inches in depth. The fully loaded draft is 35 feet. The 750-1 was built by Halter Marine Inc. in Pascagoula, Miss., and the Legacy was constructed by Dakota Creek Industries, Inc. in Anacortes, Wash. The Legend/750-2 and Liberty/750-3 are scheduled for delivery between the second half of 2012 and the first half of 2013.
Other vessels making up Crowley's industry-leading build program include the recently completed tenth and final 650 class ATB and four powerful ocean-class tugboats, currently under construction at Bollinger Shipyard in Amelia, La.  
Read more about all of Crowley's vessels at www.crowley.com.
Jacksonville-based Crowley Holdings Inc., a holding company of the 119-year-old Crowley Maritime Corporation, is a privately held family and employee-owned company. The company provides project solutions, transportation and logistics services in domestic and international markets by means of six operating lines of business: Puerto Rico/Caribbean Liner Services, Latin America Liner Services, Logistics Services, Petroleum Services, Marine Services and Technical Services. Offered within these operating lines of business are: liner container shipping, logistics, contract towing and transportation; ship assist and escort; energy support; salvage and emergency response through its TITAN Salvage subsidiary; vessel management; vessel construction and naval architecture through its Jensen Maritime subsidiary; government services, and petroleum and chemical transportation, distribution and sales. Additional information about Crowley, its subsidiaries and business units may be found on the Internet at www.crowley.com.
#     #     #