Crowley Awarded New Contract to Supply Commercial LNG to Molinos de Puerto Rico
Crowley Maritime Corp.'s liquefied natural gas (LNG) services group has been awarded a multi-year contract to supply containerized LNG from the U.S. mainland to Molinos de Puerto Rico, the Caribbean arm of Ardent Mills LLC, the territory's leading supplier of flour as well as wheat, corn and rice-based food ingredients.
The contract, executed through Crowley's subsidiary Carib Energy (USA) LLC, includes both the supply and transportation of LNG, and will help Molinos expand environmental sustainability efforts and better manage any weather-related power challenges that can affect the island of Puerto Rico.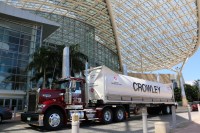 LNG is a safe, environmentally-friendly fuel that is simply natural gas in a liquid state. Natural gas is the cleanest burning fossil fuel and is being used throughout the world to reduce carbon dioxide emissions. Compared to coal and other fuel oils, natural gas produces far fewer carbon dioxide and sulfur emissions. It is also widely abundant and cost effective.  
The transportation of LNG from liquefaction facilities on the mainland to Molinos' plant will be managed by Crowley's domestic logistics team, which will coordinate the over-the-road transport of 40-foot ISO containers, authorized by the U.S. Department of Transportation to carry approximately 10,000 gallons of LNG, to the company's Jacksonville, Fla., shipping terminal. Once in Jacksonville, the containers will be loaded onto company-owned vessels departing for Puerto Rico. Upon arrival on the island, Crowley's Puerto Rico-based logistics team will deliver the LNG to the customer's facility. There, the LNG will be re-gasified and used for power consumption.
"Carib Energy is extremely pleased to be a vital supplier and logistics provider of LNG to Crowley's longtime liner services customer, Molinos de Puerto Rico," said Greg Buffington, Crowley vice president. "Our teams have been working side by side with Molinos, the Caribbean arm of Ardent Mills, assisting with the engineering to utilize the natural gas and also the logistics necessary to accommodate LNG delivery to the Molinos plant. We want to thank Ardent Mills and Molinos for having confidence in Crowley and Carib Energy to allow us to play a pivotal role in supplying a cost-efficient, safe, reliable and environmentally friendly natural gas fuel source for their operations."
Jon Stuewe, Molinos de Puerto Rico president, stated: "We appreciate the nearly two years of thoughtful care and planning that have gone into this effort. We also appreciate the additional capabilities and assured ingredient supply made possible by this important alternate fuel source. We are committed to operating across our supply chain with innovative ideas that also deliver a more positive environmental impact."
Crowley's Carib Energy was the first company to receive a small scale, 25-year, LNG export license from the U.S. Department of Energy for LNG transportation from the U.S. into Free Trade Agreement (FTA) countries. Shortly thereafter, a Crowley LNG services group was formed to begin offering supply, transportation and distribution of LNG services via 10,000-gallon ISO tanks, and the company was additionally granted the first small-scale license for supply, transportation and distribution of LNG into Non-Free Trade Agreement (NTFA) countries in the Caribbean, Central and South America.
Molinos de Puerto Rico joins several other customers receiving containerized LNG supply in Puerto Rico, where a virtual natural gas pipeline has been established by Crowley from the U.S.  Crowley is already supplying LNG to Coca-Cola Puerto Rico Bottlers in Cayey and Club Caribe in Cidra, both wholly owned subsidiaries of CC1 Companies, and to a major pharmaceutical company on the island. Additional industrial companies on the island are considering making the switch to LNG.
Crowley has served the Puerto Rico market from the 75-acre Isla Grande terminal since 1954, longer than any other Jones Act carrier in the trade. The company, with over 250 Puerto Rico employees, is also the No. 1 ocean carrier between the island commonwealth and the U.S. mainland with more weekly sailings and more cargo carried annually than any other shipping line.
Jacksonville-based Crowley Holdings Inc., a holding company of the 124-year-old Crowley Maritime Corporation, is a privately held family and employee-owned company. The company provides marine solutions, energy and logistics services in domestic and international markets by means of six operating lines of business: Puerto Rico Liner Services, International Liner Services, Logistics Services, Petroleum Services, Marine Services and Technical Services. Offered within these operating lines of business are: liner container shipping, logistics, contract towing and transportation; ship assist and escort; energy support; salvage and emergency response through its 50 percent ownership in Ardent Global; vessel management; vessel construction and naval architecture through its Jensen Maritime subsidiary; government services, and petroleum and chemical transportation, distribution and sales. Additional information about Crowley, its subsidiaries and business units may be found at crowley.com.
About Ardent Mills
Ardent Mills is the premier flour-milling and ingredient company whose vision is to be the trusted partner in nurturing its customers, consumers and communities through innovative and nutritious grain-based solutions. Ardent Mills' operations and services are supported by more than 40 flour mills and bakery-mix facilities along with a specialty bakery and Mobile Innovation Center, all located in the U.S., Canada and Puerto Rico. Deeply rooted in communities throughout North America, Ardent Mills is headquartered in Denver, and employs more than 100 certified millers, supporting thousands of local jobs and contributing billions of dollars to local economies. To learn more about Ardent Mills, visit ardentmills.com.
About Molinos de Puerto Rico
Ardent Mills' Puerto Rican operation, Molinos de Puerto Rico is the territory's leading supplier of flour as well as wheat, corn and rice-based food ingredients. Its Amapola® brand is the territory's leading retail flour and corn meal brand. Molinos de Puerto Rico's ingredients and retail products are distributed throughout Puerto Rico, the Caribbean and the U.S. mainland. Established in 1958, it employs more than 100 team members and has operations in Guaynabo's Amelia district. In addition to Amapola®, Molinos de Puerto Rico brands include Special 50® and Buccaneer® flours among others.